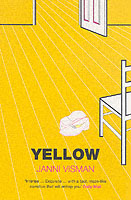 Patch stepped forward to help me with this draw, as usual, and he excelled himself - not only a very deserving winner of Janni Visman's

Yellow

, but one which doesn't even require me to use postage.


Lucy

worked with me in the Bodleian library last year, and since we're both still in Oxford, she'll be given the book in person. Hopefully I'll get her to report back...

I'm away in Liverpool until Thursday, so no Stuck-in-a-Booking for a few days!